back to the CryptArchi Home page
Workshop place - La Grande Motte, France
La Grande Motte
The workshop will take place in La Grande Motte, France.
La Grande-Motte is a commune in the Hérault département in Languedoc-Roussillon in southern France. It is a popular seaside resort and port, built in the 1960s and 1970s.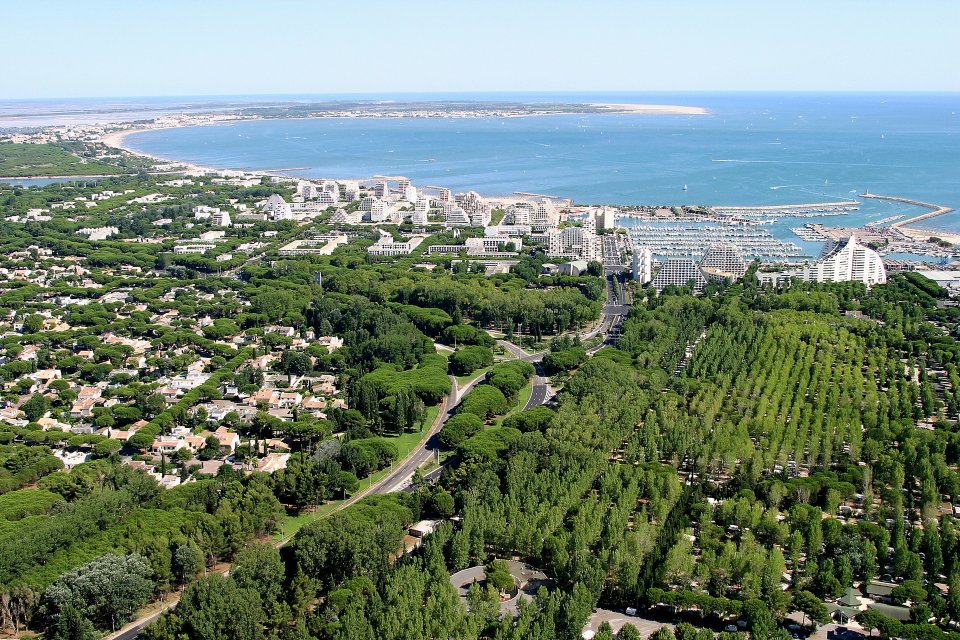 The workshop site: Belambra Club, Presqu'île du Ponant
The conference will take place in the
Belambra Club
, presqu'ile du Ponant.
Rue Saint-Louis
34280 La Grande-Motte, France
Phones: +33 (0)4.67.56.51.55
+33 (0)6.74.83.73.37
+33 (0)4.67.29.91.73
Email: club.la-grande-motte@belambra.fr
Locate on a map
How to reach it
La Grande Motte by road
A75 motorway from Paris and the centre of France
A9 motorway from Lyon
Two dual carriageways (20 km each) link La Grande Motte to the A9 motorway.
- Lunel exit when arriving from the East or North
- Montpellier-Est exit when arriving from the West
A61 motorway when arriving from Toulouse.
Bison futé
: Tél. 04 91 78 78 78 (Marseille)
Autoroutes informations
By Plane
Montpellier-Méditerranée Airport is 10 kilometres away.
Daily flights from Paris on Air France.
Regular direct flights to Lyon, Clermont-Ferrand, Nantes, Rennes, Frankfurt Hahn, London Stansted, Oslo and Copenhagen plus direct holiday flights to Funchal, Marrakech, Djerba, Monastir, Valetta and Dubrovnik.
-
Montpellier-Méditerranée Airport
: Tel (+33) (0) 467 20 85 00
-
Nîmes-Arles-Camargue Airport
(35 km): Tel (+33) (0) 466 70 49 49
By Rail
Daily services to and from all major cities, in particular the TGV high-speed train which arrives in Montpellier.
From the railway station take the tramway (line 1) to the station "Odysseum" where a regular coach (line 106) provides a return shuttle service to and from La Grande Motte (45 minutes).
Montpellier TGV station: 21 km
SNCF WebSite
By Coach
Regular year-round services.
- Hérault Transport
Return trip: Montpellier - Carnon - La Grande Motte.
Tel. (+33) (0) 467 06 03 67
Website with timetables:
Herault Transport
and look at number 106
- Cévennes Cars
Return trip: Nîmes - Aigues Mortes - Le Grau du Roi - La Grande Motte.
Tel. (+33) (0) 466 29 27 29
Website with timetables:
Cévennes Cars
and look at ligne 1
Accommodation
The conference room includes hardware/software equipment necessary for presentations (video projector, PC...) and a WiFi Internet access.
The meals (full board including coffee breaks) and accommodation are included in the registration fee.
All workshop participants will be accommodated on the spot. A sufficient number of single and double rooms will be available.
On the registration page, you will be asked if you prefer a single or double room (the price is slightly different).
Single rooms are like any room in hotel. They are located in a building close to the conference room but also from the lunch room (~100m) and the swimming pools (~250m). With a nice view on the pond of Ponant, single rooms feature a twin bed, a tv, a free wifi access, a bathroom, an air conditioner and of a nice terrace.
Choosing a Double room means that you share a bungalow (28m2) in the wide and shady park of Belambra. Bungalows feature two independent rooms; only the bathroom, the accommodation and the wide terrace are shared. A free wifi access is available in all bungalows that are also close to the swimming pools.